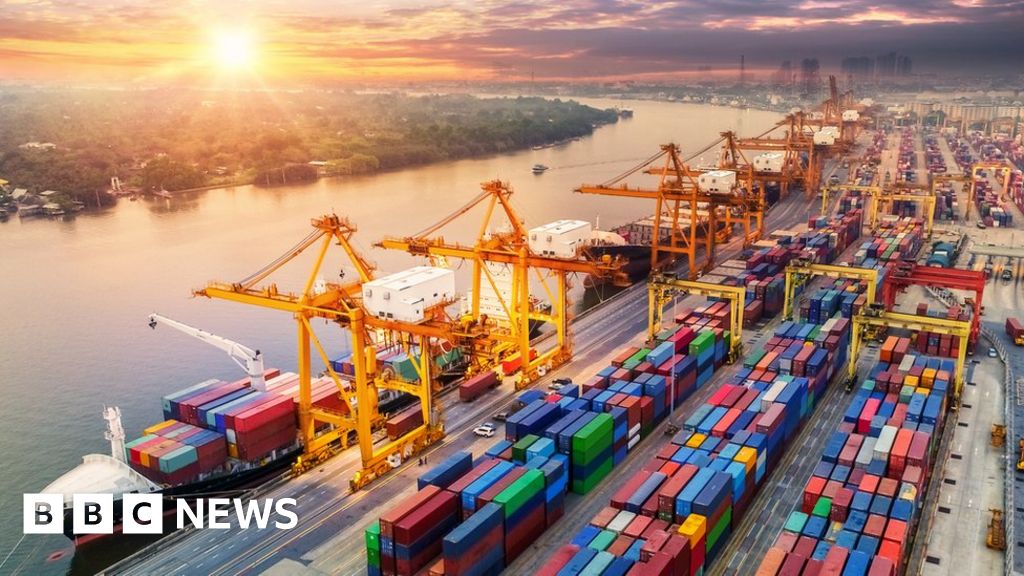 Brexit: What trade deals has the UK done so far?
Image copyright Getty Images Following Brexit, the UK is free to strike new deals for selling goods and services around the world. Foreign Secretary Dominic Raab is on a tour of Australia and Asia, to try to secure some of these deals. The government will also have to negotiate a new trade agreement with the EU as a top priority.
So, what is free trade and what deals has the UK already done? What international trade does the UK do? Selling goods and services to other countries is central to the UK's economy and supports millions of jobs. In 2018, the total value of UK trade was £1.3 trillion and almost half was with the EU. UK trade in goods – the products that can be bought and sold – was worth £840bn in 2018. Of this, cars were the biggest single export at £33.3bn, followed by medicine and mechanical power generators at £24.7bn each.
Getty UK trade in numbers… £1.3tn Total UK value of trade in 2018 £641.9bn Value of EU trade £657.2bn Value of non-EU trade 61.3% Trade as percentage of UK GDP 235,800 Number of GB businesses exporting in 2017 Source: Department for International Trade But trade isn't all about goods.
France demands UK aligns with EU rules forever in return for Brexit trade deal
Emmanuel Macron has told the European Commission it must tie Britain to EU rules forever during post-Brexit trade negotiations between the UK and Brussels. France wants to toughen the bloc's negotiating mandate for the trade talk s and force Britain to agree to "dynamic alignment" with EU rules for tax, state aid, the environment and social standards.
Dynamic alignment means Britain would have to change its laws to mirror those in Brussels as they evolve over time, despite the UK having no say in the drafting of those standards after Brexit. "France wants dynamic alignment across the board," one EU diplomat said. The EU is anxious that Britain will use Brexit to embark on a slash and burn of EU regulations and gain what it claims is in an unfair competitive advantage over the bloc by undercutting it.
The commission only asked for dynamic alignment in state aid in its call for "level playing field guarantees" in the draft mandate published on Monday. State aid concerns competition law over issues such as government bailouts, cartels and mergers. The current version of the mandate wants Britain to sign up to non-regression clauses in tax, the environment and social standards.
See Politics News Articles